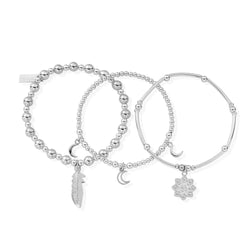 ChloBo
ChloBo Namaste Stack Of 3 Bracelet
SKU: SBSTA3N
ChloBo Namaste Stack Of 3 Bracelet 
The ChloBo stack features three delicate bracelets made from silver beads with delicate charms. The feather charm is ethically sourced and a symbol of freedom, truth and wisdom. The moon has many connections with mother earth, woman's cycles and is a hope filled reminder that always there is a new beginning. The flower om represents compassion, love and is associated with the heart chakra.
Product SKU: SBSTA3N
FREE NEXT DAY DELIVERY
Free Next Day UK Delivery On Full Price Orders Over £50.

FREE SAME DAY CLICK & COLLECT
We offer a free same day click and collect service. Place your order before 5pm Monday to Saturday or before 4pm on Sunday. Orders placed after these times will be available from 9.30am the very next day.

NEXT DAY DELIVERY
We offer next day delivery (Mon-Fri) on all orders placed before 2.30pm Mon-Thu, excluding sale items. All orders are sent using a tracked service and you will receive your tracking number once your goods have been dispatched.

See our full delivery terms here.
You can return or exchange any items bought online from OD's Jewellery within 14 days starting from when you received them, providing you have the receipt, the items are unworn and in their original packaging.