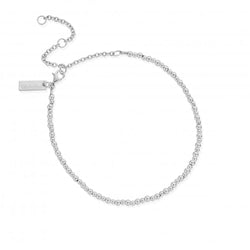 ChloBo
ChloBo Mini Cute Anklet
SKU: SANMC
ChloBo Mini Cute Ankle 
Whether you're heading to the beach in sandals or dressing up in heels, the Mini Cute Anklet is the perfect finishing touch to every outfit. This beaded anklet design features an adjustable chain fasten for a comfortable and secure fit.
Production SKU: SANMC
FREE NEXT DAY DELIVERY
Free Next Day UK Delivery On Full Price Orders Over £50.

FREE SAME DAY CLICK & COLLECT
We offer a free same day click and collect service. Place your order before 5pm Monday to Saturday or before 4pm on Sunday. Orders placed after these times will be available from 9.30am the very next day.

NEXT DAY DELIVERY
We offer next day delivery (Mon-Fri) on all orders placed before 2.30pm Mon-Thu, excluding sale items. All orders are sent using a tracked service and you will receive your tracking number once your goods have been dispatched.

See our full delivery terms here.
You can return or exchange any items bought online from OD's Jewellery within 14 days starting from when you received them, providing you have the receipt, the items are unworn and in their original packaging.